How to choose the right dainty silver necklace length
08.17.2021
How to choose the right dainty silver necklace length
30cm Collar necklace

41cm Choker necklace

46cm Priness necklace

58cm Matinee necklace

91cm Opera necklace

Rope 120cm or above necklace
When you are going to buy a
dainty silver necklace
as a gift for your relatives, friends or yourself, you should consider what kind of length is the most appropriate. The length of the necklace should match the height and wearing of the wearer. According to its length, it is traditionally divided into the following categories, taking the wearer's height of 165-175cm and weight of 45-60kg as a reference.
30cm Collar necklace
Three or more short necklaces of about 30cm are worn side by side, closely fitting the neck, with Victorian luxury. It is very suitable for matching with V-neck, boat neck or off shoulder low chest evening dress.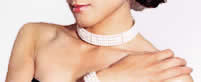 41cm Choker necklace
A 41cm necklace is the most practical length. The length of the necklace hangs just above the collar. The diversity of classic styles and uses makes it not only suitable for daily life, but also suitable for dinner. Daily work, elegant shirts, stylish skirts, and this necklace with perfect length are elegant and intellectual.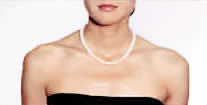 46cm Priness necklace
The length of the princess necklace is about 46cm, which is a little longer than the short necklace. Its hanging length is a little below the round neck line, which can just form a "V" line on the front to set off a good collar line.
It is also suitable for matching with a low neckline and exaggerated neckline. The 46cm necklace is considered the most classic length among necklaces. If you are not sure what length is suitable for you, choosing 46cm will be your wisest choice.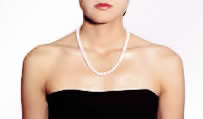 58cm Matinee necklace
Necklace with a length of about 58cm. It is longer than the princess, but slightly shorter than the opera necklace.
This length is ideal for matching high collars and women with short necks. Petite women wearing this necklace can produce a sense of hierarchy and stretch visually. In addition, wearing this type of necklace, the color of the clothing should be soft and the decoration should not be too much.
Suitable for informal occasions or business activities. It's best to match it with the high collar, which can neutralize the too formal elements of the high collar and increase affinity. Martini necklaces are also suitable for matching long suspender skirts and long skirts. It gives the wearer a feeling of luxury and confidence.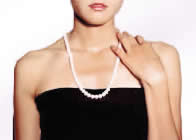 91cm Opera necklace
The hanging length is just in the middle of the chest, which can also produce a good sense of hierarchy. Opera necklaces can also be wound into two short necklaces to achieve different effects. At the same time, this length of necklace is suitable for various styles of neckline.
There are many ways to wear it. You can tie it with a high collar, or wrap it twice to form a fashionable Collar Necklace. You can also tie a knot at the collar or above the chest. At present, this kind of retro element is becoming a fashion. In the past, opera pearl necklace could only be used with formal dress, but now it has become a new fashion to match informal casual clothes.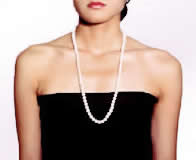 Rope 120cm or above necklace
You can choose different wearing methods. Elegant and sexy long necklace is suitable for wearing at all kinds of dinners. It can be wound into two or three short necklaces to create a sense of hierarchy. Tie it in a knot on the chest, which highlights the extremely luxurious temperament.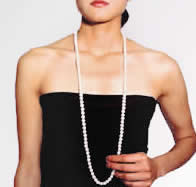 Today, we saw this retro way of wearing in some high-end fashion magazines, and it seems to have become popular now. Wearing matching backless clothes, tie a knot in front of the chest and then hang down on the back around the shoulder to highlight the beauty of the back.