How to choose a suitable Necklace Length?
09.29.2021
How to choose a suitable Necklace Length?
Choosing the Right Necklace Length

Choosing the Right Necklace Length for the Female Body

Neck Size

Height

Body Type

Face Shape

Your closet
Have you ever encountered such a situation?
Online jewelry stores see a dainty silver necklace and place an order immediately. However, when they arrived home, they found that the length of the necklace was completely different from that imagined, so the most beautiful necklace became a useless pendant.
It's exciting to decide to buy a new necklace, but before buying, you should not only consider the appearance, but also the length of the chain, which needs to be judged in combination with your wearing habits and personal style.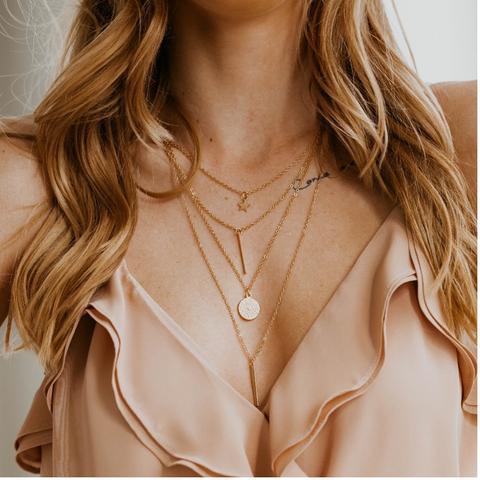 The non customized necklace or chain adopts the industry standard length; There are five different lengths for women and four for men.
| | |
| --- | --- |
| Standard necklace sizes for women | standard necklace sizes for men |
| 16"- Choker Length | 18"- Base of the neck (for smaller neck sizes) |
| 17-18"- At collarbone | 20"- To collarbone (most common length for average men) |
| 20"- A few inches below collarbone | 22"- A few inches below the collarbone |
| 22"- At or above neckline | 24"- A few inches above the sternum |
| 24"- Below the neckline | 30"- At the sternum |
Choosing the Right Necklace Length
Everyone is unique, both physically and in aesthetic preferences. In other words, we aren't all "standard" size nor do we have the same taste in jewelry. For individuals that require a special size necklace, sometimes ordering the same necklace in the next standard size (either up or down) works as well as customization. Depending on the style of necklace, a jeweler can also remove links to shorten the length for those with small necks. (Note: It's always a good idea to keep the extra links in case the necklace is eventually passed on to an individual with a larger neck or backup links are needed in the event repairs are necessary.) Not all necklaces are available in the size you may need however, and customization may be necessary.
Choosing the Right Necklace Length for the Female Body
The right necklace can really pull any outfit together and be the focal point of a woman's body. It is therefore important to consider how the length of the necklace will compliment your body. When selecting the correct chain length for your necklace it is important to consider such features as your neck, your height, your body type and your face shape.
Neck Size
If possible, take the time to measure your neck before purchasing any necklace and most importantly a choker. The easiest way to measure your neck is to gently take a soft measuring tape and wrap it closely around your neck. Whatever your neck measurement is, add two inches to that and that's a comfortable length for chokers which are usually sized at 16 inches; add four inches to that and that's a great length for a pendant or name necklace which is usually attached on an 18-inch chain for women. Chokers work best for people with long necks while short necked individuals are better off staying away from it.
Height
Your height is another factor to consider when choosing the perfect necklace chain to flatter your body type. Women below 5'4" look best in 16 to 20 inch necklace lengths. A long necklace tends to overwhelm a smaller frame. Women who fall between the height of 5'4" to 5'7" can wear necklace of any length. Taller women who are 5'7" or above can wear any length necklace. Longer chain style necklaces look best on taller women as they accentuate a tall frame.
Body Type
In terms of necklaces, remember that people's eyes will stop at the point where your necklace ends so if you don't want them looking at that part then, avoid necklaces that end there. For women with smaller bust, a long thin chain or long layered chains would look great on you. The kind of necklace that sits below the breast line should be avoided by full figured women as this length necklace will not hang properly. Instead, try a necklace that sits slightly higher on the body, such as an 18- to 22-inch necklace.
Face Shape
Another purpose of necklaces aside from being an accessory is that it actually helps frame your face. As with the body type, a necklace can help you accentuate your strongest facial features and alter the way your face is perceived by others.
Women with round faces should avoid short necklaces or chokers as they will accentuate the roundness of her face.
Those with oval shaped faces can take advantage of any necklace fad since they can wear almost any shape, length or type of necklace.
For those with a long-shape face who may want to broaden and soften the shape of their faces, should wear shorter necklaces. Short, round necklaces will keep from adding length. Look for choker and princess necklaces, measuring between 16" – 18".
Heart shaped faces look great with chokers or any short necklace as they create an illusion of fullness and balance out a narrow chin.
Your closet
Your everyday wardrobe is another important part of your necklace length decision. Let's stick with turtlenecks as a wardrobe example. Long ropes of chain or beads will look great with turtlenecks on most women, but if you are short or full-figured, they may not. Once you have decided what you will wear, just make sure the necklace length you choose adds to the overall look and enhances your appearance.
There are many things to consider when you're properly outfitting yourself with a new necklace. We've talked about neck, face and body type, and a bit about how your clothing will drive the length of the piece you choose. For all that planning, though, you just may come across something you adore and have to have. All things considered, only you can really decide if that cool necklace that may not be the perfect length might actually be the perfect necklace for you.